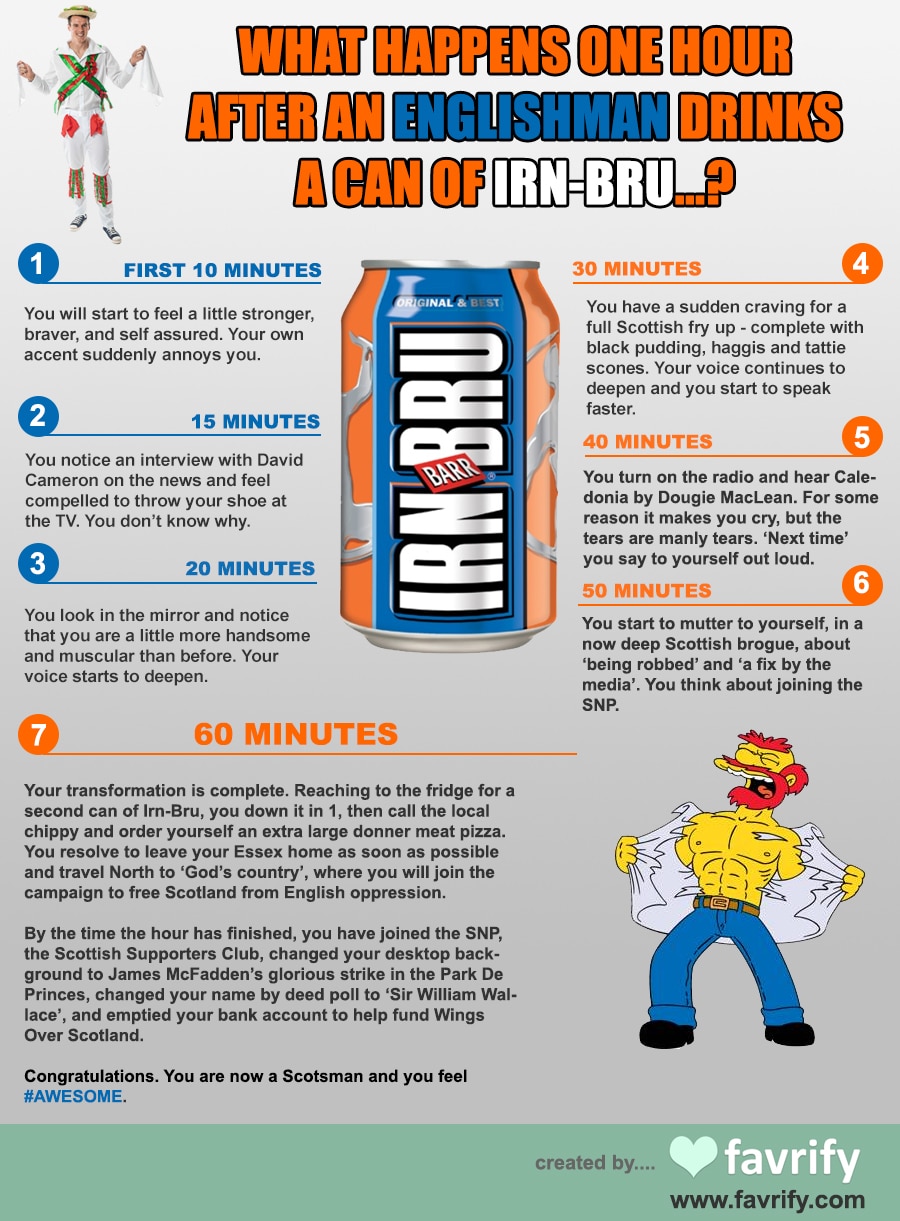 First 10 Minutes…
You will start to feel a little stronger, braver, and self assured. Your own accent suddenly annoys you.
15 Minutes…
You notice an interview with David Cameron on the news and feel compelled to throw your shoe at the TV. You don't know why.
20 Minutes…
You look in the mirror and notice that you are a little more handsome and muscular than before. Your voice starts to deepen.
30 Minutes…
You have a sudden craving for a full Scottish fry up – complete with black pudding, haggis and tattie scones. Your voice continues to deepen and you start to speak faster.
40 Minutes…
You turn on the radio and hear Caledonia by Dougie MacLean. For some reason it makes you cry, but the tears are manly tears. 'Next time' you say to yourself out loud.
50 Minutes…
You start to mutter to yourself, in a now deep Scottish brogue, about 'being robbed' and 'a fix by the media'. You think about joining the SNP.
60 Minutes…
Your transformation is complete. Reaching to the fridge for a second can of Irn-Bru, you down it in 1, then call the local chippy and order yourself an extra large donner meat pizza. You resolve to leave your Essex home as soon as possible and travel North to 'God's country', where you will join the campaign to free Scotland from English oppression.
By the time the hour has finished, you have joined the SNP, the Scottish Supporters Club, changed your desktop background to James McFadden's glorious strike in the Park Des Princes, changed your name by deed poll to 'Sir William Wallace', and emptied your bank account to help fund Wings Over Scotland.
Congratulations. You are now a Scotsman and you feel #AWESOME.
Disclaimer: We may have made all of this up!
If you would like to embed this infographic on your own site, then please get in touch 🙂 Morris Dancer image courtesy of Last Night Of Freedom.