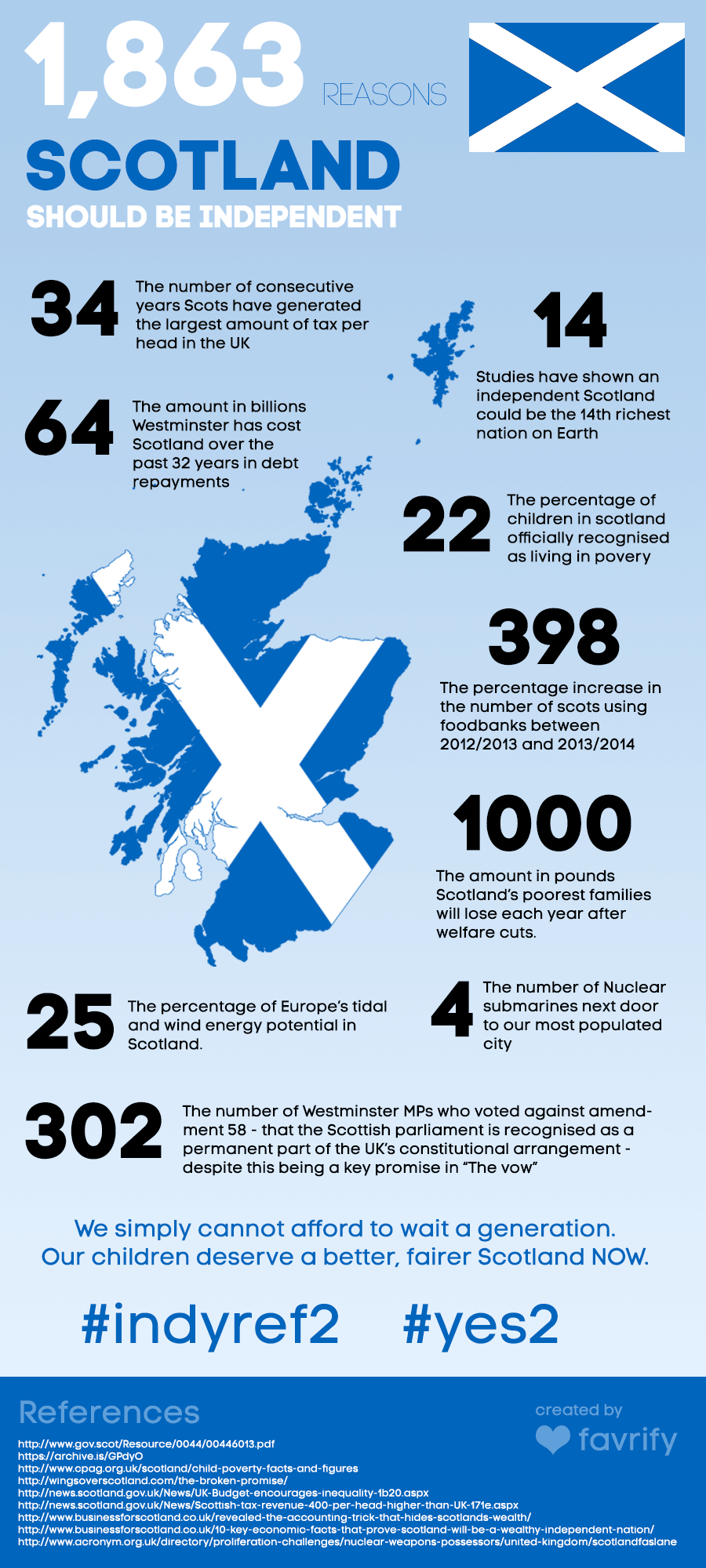 Further Information / Sources
More information on the facts above, and links to further reading.
Tax Per Head
In March 2015, the Scottish government announced that tax take per head in Scotland was £400 higher than the rest of the UK.
This was the 34th year in a row that Scots have contributed more than the rest of the UK (more).
Debt Repayments
Over the past 32 years, Scotland's share of the UK's debt interest payments amounted to £64billion.
Had Scotland been an independent country during that time, with its geographic share of oil revenues established under International Law, it would have had zero borrowing, and zero interest payments (more).
Scotland's Place On The Rich List
Research by the Scottish government in the lead up to last year's referendum showed that Scotland could be the 14th richest nation (GDP per capita) on Earth (more).
Our Children's Poverty
Research by Child Poverty Action Group (CPAG) showed that in 2013/2014, 210,000 of Scotland's children were officially recognised as living in poverty, equivalent to 22% of the child population, and an increase of 3% since 2011/2012.
A child is defined as being in poverty when their family lacks 'the resources to 'obtain the type of diet, participate in the activities and have the living conditions and amenities' which are the norm in 21st century Scotland.' (more).
Food Banks
Figures released by The Trussell Trust (the charity responsible for food banks in the UK) showed that the number of people using their Scottish based food banks increased by 398% between 2012/13 and 2013/14.
Almost 10,500 Scots visited food banks in December 2014 (more).
Welfare Cuts
Research by the Scottish Government showed that cuts to tax credits, due to come into force in April 2016, may affect up to 250,000 Scottish households.
The Institute For Fiscal Studies estimates the cuts will cost working families an average of £1,000 a year (more).
Weapons Of Mass Destruction
The current Trident nuclear weapons system comprises four nuclear powered Vanguard-class submarines, which are homeported at the Faslane naval base northwest of Glasgow (more).
Renewable Energy
It is estimated that Scotland has 25% of Europe's total tidal energy potential, 25% of total wind energy potential and 10% of total wave energy potential, which has the power to reindustrialise Scotland bringing more jobs and greater prosperity (more).
Scottish Parliament
Despite the first 5 words of 'The Vow' being "The Scottish Parliament is permanent", amendment 58, proposed in parliament by the SNP, which would have recognised the Scottish Parliament as a permanent part of the UK's constitutional arrangement, was voted down by 302 votes to 271 (more).
We simply cannot afford to wait a generation. Our children deserve a better, fairer Scotland NOW. #indyref2 #yes2